Adoption Hours
Wednesday through Sunday 1-4PM  Closed Mondays & Tuesdays
* We are now open Thursdays to the public, with no appointment necessary.
All other days are still by appointment only and you must always be pre-approved to adopt.
Clean Out Your Closets for Whiskers!

DID YOU KNOW....
Whiskers Pet Rescues' total vet bills for 2020 were over $73,000?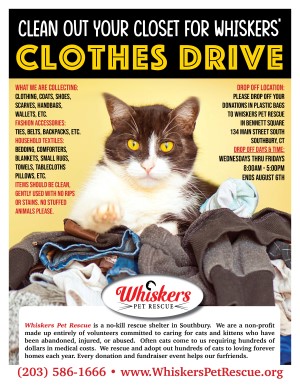 This summer Whiskers will raise funds by collecting gently used material items.  
 All material should be gently used, clean, and in plastic bags. 
DROP OFF DAYS:
Wednesdays thru Sundays 8AM - 5PM

We are looking for:
Men's, Women's and Children's clothes
Coats
Shoes
Scarves
Handbags
Wallets
Ties
Belts
Backpacks

Also household textiles like:
Bedding
Comforters
Blankets
Sheets
Towels
Tablecloths
Curtains
Pillows
Cloth/fabric - large enough/usable for sewing
*These items are not allowed: Stuffed toys, ripped or stained clothing
All donations to Whiskers Pet Rescue are tax deductible.