Become a Part of the Whiskers Volunteer Team!

We are fortunate to have a team of fabulous volunteers and fosters who dedicate their free time to helping cats/kittens, but we can always use more help.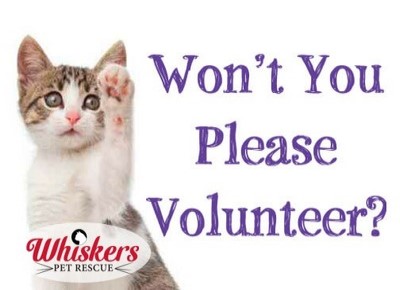 If you are interested in Volunteering at the shelter, please read the information HERE, and then fill out THIS CONTACT FORM. To volunteer, you must be 18+ years old. We do accept some reliable 16-17 year old volunteers at the shelter, with parent permission and signature on liability waiver form. 
 
  If you're interested in Fostering for us, please read the information HERE. If you still have questions, please email WhiskersFosters@gmail.com   *To apply to be a foster, please fill out THIS FORM. To foster, you must be 21+ years old and also be local to Southbury (within 30 minutes +/-) because you will need to bring kittens/cats in for vet appts, and also need to be able to pick up supplies.
 
NOTE: We do NOT reply by phone. Please be sure to watch for reply emails! Also check your spam folder, as the reply may go to your spam!