Become a Part of the Whiskers Volunteer Team!
NOTICE:  WE NEED VOLUNTEERS!! Besides our full-time morning cleaning volunteers (approx 4 hr shift), we are also NOW ACCEPTING 2 HOUR MORNING SHIFT VOLUNTEERS! Email WhiskersPetRescue@yahoo.com, specify 2 hr shift, please.
How can I volunteer at Whiskers Pet Rescue?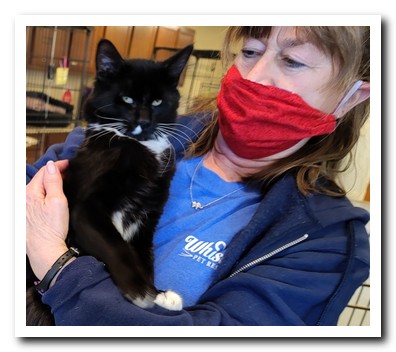 Volunteers are needed for many things at Whiskers Pet Rescue. Here are some of the ways that you can get involved as a volunteer:
Hopefully, people that can't do a full shift might be able to do a 2 hour shift in the morning doing the basic cleaning and feeding (and loving) of our cats and kittens.
Volunteer in our Cat Adoption Center in Southbury. We need mature, responsible, cat-loving adults to help us with kennel work (cleaning cages, litter box cleaning, giving the cats fresh food and water, etc.) and of course the fun part…playing with the kitties! You need to be able to commit to one morning (8:30am until finished cleaning) or evening (approx. 5-7pm) a week, but you're welcome to do more if you desire. You must be at least 18 years of age to apply.  We will now accept some 16-17 year olds, with signed parent/guardian signature on the waiver of liability. This is a great opportunity for students who need community service hours!
Collect donations from local businesses that we will use as raffle prizes at our fundraisers.
Bake lots of goodies for our bake sales.
Develop ideas for new fundraisers and follow through with those ideas.
Transport animals to and from vet appointments, or in emergency situations. 
We are fortunate to have a group of fabulous volunteers who dedicate their free time to helping cats/kittens, but we can always use more help. If you'd like to join us in our mission, please click here and select "Volunteering" as your topic.



How can I become a foster at Whiskers Pet Rescue?

Our Foster Care Program is vital to our organization. Our foster families give a loving temporary home to our rescue cats/kittens until they go to their forever homes. 
Fostering mom cats with kittens, pregnant cats and/or orphan kittens can be a 4 to 12 week commitment. All needs are provided until they are old enough to return to Whiskers and be vaccinated and adopted.
We also need shorter term fosters willing to help out with kittens not quite old enough for adoption or that need socialization. Sometimes we have cats or kittens recovering from illness or injury that need a foster to take care of them. We also occasionally have adult cats that need more socialization, or who do really poorly in the shelter environment and need a foster "vacation" for a few weeks or months, until they are adoptable.
NOTE: Fosters do need to be local to Southbury (within 30 min +/-) because you may need to bring kittens/cats in for vet appts, and also be able to pick up supplies.
If you're interested in fostering a cat or kittens, please click here and select "Fostering" as your topic.