CLICK HERE to to view or print our HOLIDAY LETTER as a pdf

Greetings Friends,
You've done so much! Will you continue to be part of our success? Thanks to supporters like you, Whiskers has been able to care for hundreds of cats and kittens. 2023 has been an exceptionally busy year. Our adoption totals will reach 700+ by years end and our Senior-to-Senior Program supports 74 senior cats (12+ years old).  
Our mission to care for the abandoned, injured, abused, and unwanted cats and kittens in the community is only possible because of your involvement.  As a Volunteer based rescue, and a non-profit Charity, nothing is possible without you!  With 165 Volunteers, 36 Foster homes, and over 5000 sq. feet of adoption space, we move toward the future with you our mission partners.  Whiskers recently acquired an additional 1300 sq. feet of space for a Cage Free building. Many cats needing socialization, or who may be stressed in a cage, will find refuge in large, bright, and interactive rooms. We have grown so much since 2015!
Whiskers is a No-Kill organization. We do not shy away from difficult situations. Take for example:

BOINK was born with a severely deformed rear leg. He had 5 brothers & sisters. He learned to run and play with his siblings as his deformity didn't slow him down one bit. At 5 months old he was neutered and his leg was amputated. He fully recovered in a wonderful foster home, and he never lets his disability hold him back. Boink was adopted and is living his best life. Happy Boy! Happy Life!
FAITH: Unfortunately, Faith had a rough start. Her mother was very aggressive and attacked her babies when they were 3 hours old. Faith was the only survivor. She was bottle fed every 3 hours and was in critical condition. After many ups and downs and numerous medical appointments, Faith is finally beginning to stabilize. She is 10 weeks old now and although small for her age, continues to do well with her Foster Mom.  
WINTER: As a kitten, Winter was diagnosed with FIP (Feline Infectious Peritonitis), a deadly disease that most cats and kittens die from. There is a 1% survival rate. Horrible news for the little one. We knew the odds but with the help and guidance of a critical care Vet., we joined a trial study with injections daily for almost 2 months. Although depressed, she rallied with the medication and the love of the volunteers and was finally clear of this dreaded virus and was adopted into a beautiful loving home.
GIO: This is a tough one to write. Many of you may know the story. GIO was a special 5 week old boy cared for by an amazing foster Mom. When he couldn't keep food down and was losing weight, he was diagnosed with Persistent Aortic Arch, where a ring develops around the esophagus, growing tighter as the kitten grows so that food cannot get through. Surgery was our only option to save his life, but at less than 2 pounds, he needed to gain at least 2 more pounds.  When bottle feeding didn't work, he had to have a feeding tube. Hand in hand with the Newtown Emergency Hospital doctors, our amazing foster, and you, our donors, GIO was growing. His future seemed bright and on track. Unfortunately at 18 weeks when he began to slow down and get quiet, we learned he was suffering with deadly FIP (like Winter). Gio was not going to make it even with medical intervention. We made the difficult decision to let him cross the Rainbow Bridge in the loving arms of his Foster Mom. We know the suffering for GIO is over but the pain and the void for all of us lingers. Run Free, Sweet Boy.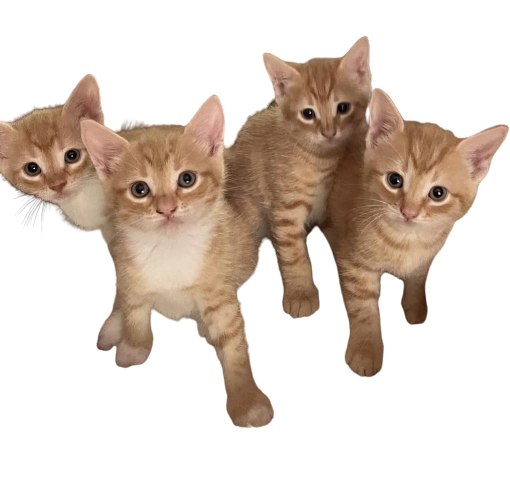 During this "Season of Giving" please consider a Tax-deductible donation to Whiskers so that we may continue our life saving work.
•  Check donations can be mailed to P.O. Box 367 • Southbury, CT 06488. 
•  Debit/Credit Card, Google Pay, Apple Pay, PayPal and Direct Bank debit (ACH) donations can be made HERE.

•  VENMO donations can be sent to @CatsRus  (Southbury Whiskers) 
---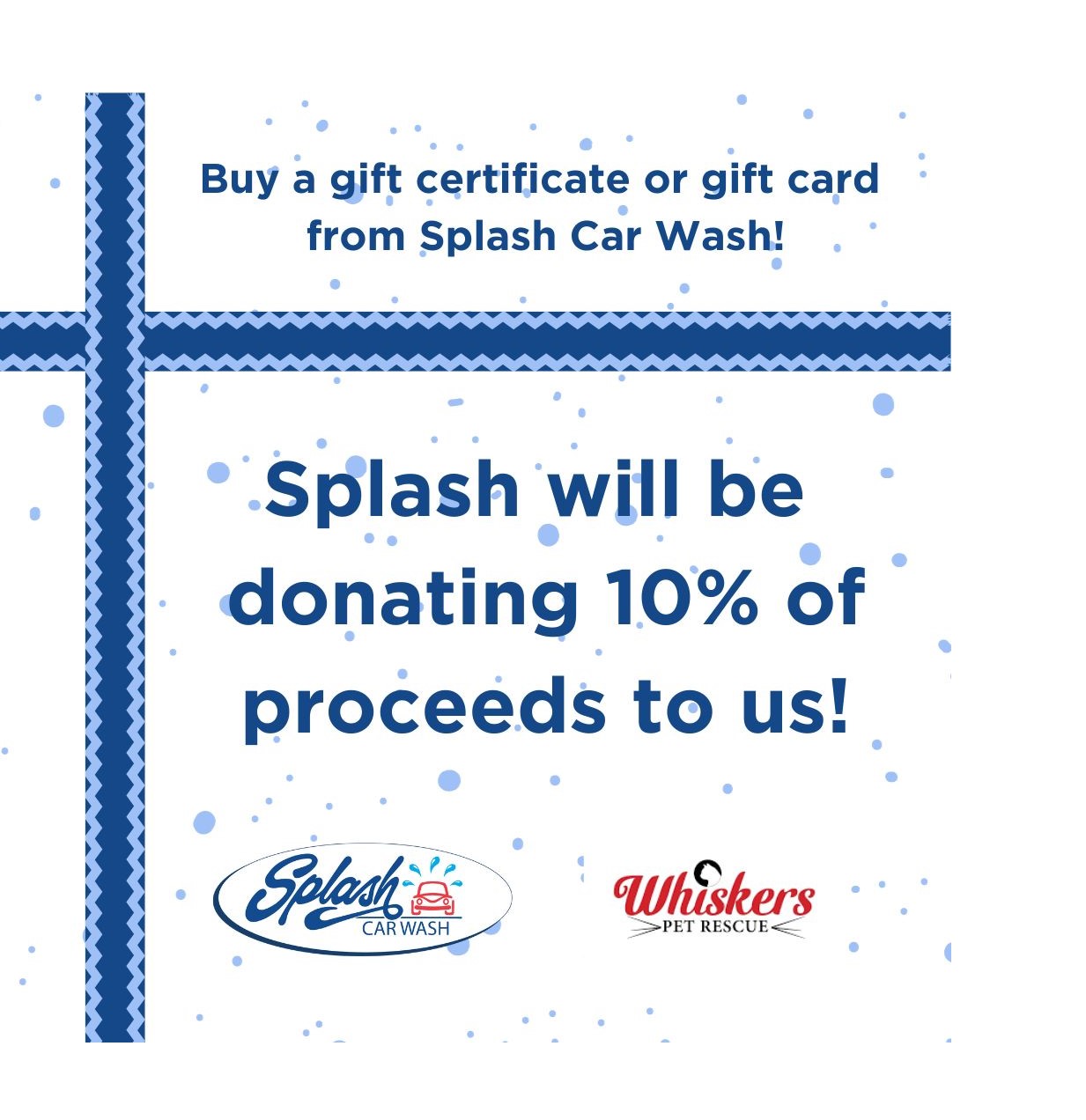 Give the gift of giving this year! Splash Car Wash of Southbury will be donating 10% of all of its gift card and gift certificate purchases to WHISKERS this holiday season! So help us - by buying friends and family the gift of a car wash or detail. Just stop by their Southbury location or click here to purchase them online: https://store.splashcarwashes.com/
---
Please save all of your LaBonne's Market receipts (from any location) for us!! 
---
We really need more fosters if we are to rescue any more of the many pregnant cats, mom cats with kittens, or orphan kittens that we get calls about all the time. We also need more volunteers to clean, feed and care for the cats at the shelter, especially with volunteers going away on vacation, etc. Please click here if you are interested in learning more about fostering or volunteering at Whiskers, or to apply.
---