Business Information: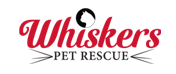 PUBLIC HOURS: 
CLOSED Monday & Tuesday
Wednesday - Sunday 1pm - 4pm *Please note that you cannot play with, put on hold or adopt a cat or kitten unless you have a pre-approved application on file! Also, adopters with appointments always have priority, so please make an appointment! It is always better to get pre-approved!
 
MAILING ADDRESS: Whiskers Pet Rescue, PO Box 367, Southbury, CT 06488
PHONE:  203-586-1666
SOCIAL MEDIA:  Facebook   
Instagram/Twitter @Whiskers_CT    
GENERAL EMAIL: WhiskersPetRescue@yahoo.com 
Volunteering: VolunteeringatWhiskers@gmail.com
Fostering: WhiskersFosters@gmail.com
Adoption Information:
It is highly recommended to make an appointment once you are approved to adopt. Approved adopters with appointments always take priority over walk-ins.  Apply online, then once you are approved, we will contact you by email for an appointment to meet our available kitties.
General Information:
Donations:
By Mail:  Whiskers Pet Rescue, PO Box 367, Southbury, CT 06488
Sponsor-A-Cage 2023  (a year long sponsorship program run once a year in January)
 
EMERGENCY VET HOSPITALS