Our Senior-to-Senior forever foster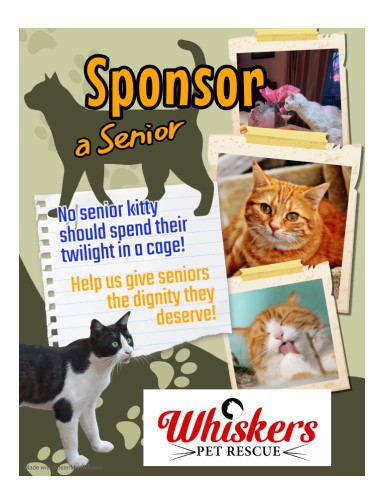 program pairs senior cats (over 12 years old) with senior citizens (65+). Adoption fees are waived and we supply the food, litter and medical care, whereas the human seniors supply the love! This is a wonderful option for seniors on a fixed income. A senior cat gets a wonderful home and a senior citizen gets a loving pet kitty at no cost! Win-Win!
By sponsoring a senior kitty, you help provide medical care and medications, as well as pay for the basic supplies for the kitties, like food and litter. Whiskers currently has about 60 seniors in its Senior-to-Senior Program and we desperately need help in order to continue this wonderful mission to help connect senior humans with senior felines, who frequently would otherwise spend the rest of their lives in cages. We currently have two options available: 6 or 12 month sponsorships. You will receive an email with the name of the senior kitty you are sponsoring included in the "thank you" email. Please email us at WhiskersSeniorSponsors@gmail.com with any questions. You can also send us a photo of the pet or person you are honoring or remembering, if you would like to. ​​​​​​

If you wish to honor your pet or human friend while sponsoring one of our pawsome seniors, please make sure you select the right options while making your payment.
If you would like to sponsor BY MAIL, please CLICK HERE FOR THE SENIOR SPONSOR FORM

and send or drop off with a check to: 

Whiskers Pet Rescue, 134 Main St South, Southbury,

CT 06488


 

TO SIGN UP TO BE A SENIOR SPONSOR ONLINE, fill out the form below.