Volunteering at the Shelter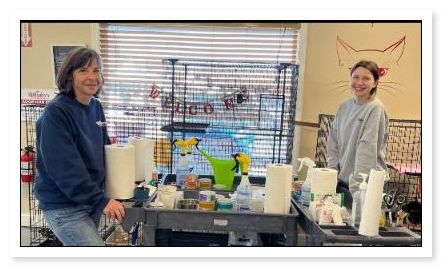 VOLUNTEER POSITIONS AT WHISKERS PET RESCUE
We need reliable people to keep Whiskers clean & running smoothly!

To volunteer, you must be 18+ years old. We do accept some reliable 16-17 year old volunteers at the shelter, with parent permission. If you are interested in Volunteering at the shelter, please read the information below, and then fill out THIS CONTACT FORM.
Monday – Friday AM Cleaning Team: Start time is 9:00 AM (some volunteers choose to start earlier). This involves cleaning all cat cages/litter boxes, washing food and water bowls, doing laundry, vacuuming/sweeping the shelter floors, etc. Also feeding each cat/kitten appropriately (some of our residents are on special diets and/or medication), and providing fresh water. Approximately 3-4 hours, depending on how many cats we have. We do have some 2 hours shifts available for those with limited time or physical ability! 
Monday – Sunday PM Cleaning Team: Start time is 5 PM. Feed, water, scoop litter, give medications if needed. Clean cage only if required. Approximately 1.5 -2 hours, depending on how many cats we have.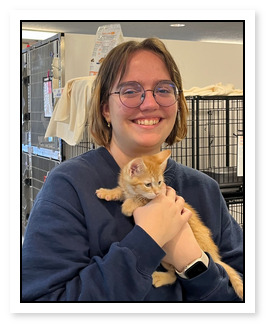 Adoption Team: Wednesday – Sunday, 1-4 PM: Assist with appointments of approved adopters, answer questions during public hours, keep cat cages clean, live answer calls, check phone messages and return calls, and help with sending cats to their new homes! *We ask that new volunteers join one of the cleaning teams for a couple of months before moving to an adoption team in order to familiarize yourself with our processes.
Fundraising / Events: The shelter holds a number of events every year which offers volunteers the opportunity to get involved.

Fostering:  Click here for more information.